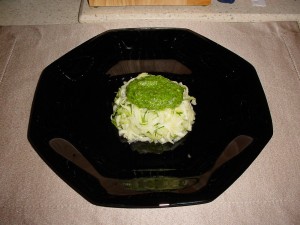 Zucchini Spaghetti with Pesto
Recipe type:
Appetizers and Side Dishes
Ingredients
3 large zucchini (about 2 inches thick and about 10 inches long)
2 cups loosely packed basil leaves (washed and dried thoroughly)
2 tablespoons pine nuts (leave this out for those with nut allergies)
2 tablespoons freshly grated Parmesan cheese
¼ teaspoon of fresh minced garlic
¼ cup plus 1 tablespoon of extra-virgin olive oil
Instructions
Cut the top and bottom off of the zucchini. Use a large hole cheese grater, spiral slicer or shredding blade in your food processor to shred the zucchini and set it aside.
Pesto sauce
In a food processor, combine the basil, pine nuts, cheese, and garlic until smooth. Then drizzle in the olive oil until everything is incorporated.
Shape the shredded zucchini into a pretty shape or just spread like spaghetti on a plate and top with the pesto mixture.