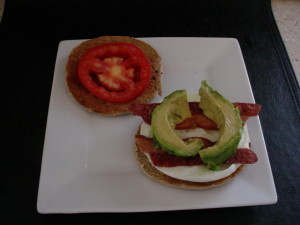 Quick and Easy Breakfast Sandwich
Ingredients
1 egg, egg white or serving of "All Whites" in the carton
1 piece of turkey bacon
2 small slices of fresh avocado
1 slice of tomato
1 100% whole wheat sandwich thin, English muffin or two pieces of whole wheat bread
Instructions
Spray a ramekin, single serving custard bowl or small round container with cooking spray
Put your whole wheat bread choice in the toaster and toast (this keeps the sandwich from getting soggy)
Scramble the whole egg, or separated egg white (if using "All Whites, you don't need to scramble) and pour into container.
Microwave the turkey bacon until cooked to your liking.
Microwave for 1 minute until gently firm
Place the egg white, turkey bacon, tomato and avocado on top of one piece of the bread.
Place the other piece of bread on top to make the sandwich.
Note: This sandwich is super versatile, so use your imagination. This is a great way to use left overs such last night's cooked vegetables or left over fresh spinach from your salad. This is a healthy breakfast on the go to get your day started right with some lean protein, complex carbohydrates, a partial vegetable serving and some healthy fat.