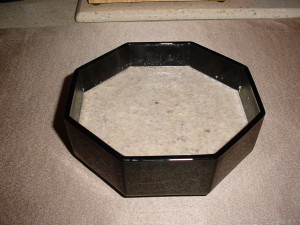 Mushroom Soup
Recipe type:
Soups and Salads
Ingredients
10 ounces of mushrooms of your choice, washed and chopped (I used baby portabellas)
1 yellow onion, chopped
3 tablespoons of extra virgin olive oil
8 ounces of button mushrooms, washed and chopped
2 cups of low sodium, no MSG added vegetable broth (or chicken broth if you prefer)
2 cups of fat free half and half
¼ teaspoon black pepper
1-2 tablespoons fresh thyme to taste
Instructions
In a large pot or Dutch oven/soup pot, cook the 10 ounces of mushrooms of your choice and the chopped onion with half of the olive oil until the cooked through. Mix in the broth and half and half slowly. Bring to a boil. Let this cool for about 5 minutes. Once cool, put in a blender for about 30 seconds to emulsify the mixture. Cook the remaining mushrooms and oil in the soup pot until cooked through. Add the mixture from the blender. Stir in the pepper and thyme until reheated and serve.