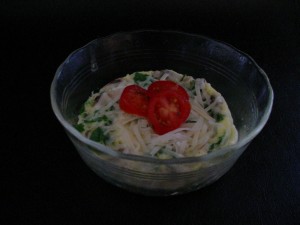 Microwave Egg with Vegetables in a Bowl (or coffee cup)
Ingredients
1 egg (or 2 egg whites)
1 Tablespoon skim milk
2 Tablespoons chopped mushrooms
2 Tablespoons chopped spinach (I roll the leaves and make them into thins strips (chiffonade)
1 Tablespoon of fresh grated parmesan or fat free mozzarella (optional)
1 large grape tomato cut into thin slices (I like a piece of tomato in every bite of this dish, so I used 2 large grape tomatoes.)
Instructions
Coat the microwave safe, single-serving custard bowl, ramekin or coffee cup with cooking spray.
Beat egg, milk and vegetables and pour into container. (You could whip this in the container, but I found it easier not too. It really depends on whether you mind an extra dirty bowl.)
Microwave for 30 seconds and then stir. Microwave an additional 30 to 45 seconds until eggs is set up and there's no liquid.
Top with cheese, if you'd like, and garnish with the tomato slices.
Note: You can use just the egg white if you prefer.