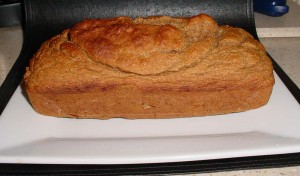 Healthy Banana Bread
Serves about 12 (makes one loaf)
Ingredients
3 tablespoons of Stevia powder
1 egg
1 cup of all natural applesauce
3 ripe bananas
2 cups of unbleached 100% whole wheat flour (I use King Arthur's)
½ teaspoon of salt
1 teaspoon baking soda
Instructions
Preheat the oven to 350 degrees. Use cooking spray to lightly coat two 9x4x2 inch loaf pans or two muffin tins.
Mix the Stevia, applesauce and egg until creamy. Puree the bananas in a food processor and add the them to the mixture. Beat until smooth. Add the dry ingredients and mix until fully incorporated. Spoon into loaf pan.
Bake for about 1 hour or until a toothpick inserted in the bread/cake comes out clean.
Note: You can use this recipe to make muffins, but they cook faster. So check them frequently.