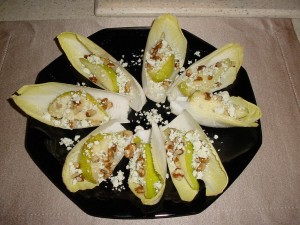 Elegant Endive and Pear Salad
Recipe type:
Soups and Salads
Ingredients
4 to 6 heads of Belgian endive
1 ½ tablespoons of Champagne or white wine vinegar
¾ teaspoon Dijon mustard
½ teaspoon freshly ground black pepper
6 tablespoons of extra virgin olive oil
3 ripe Bartlett pears, halved, cored and sliced (I use an apple corer/slicer that does it all in one step)
4 ounces of reduced fat blue cheese (you can use feta if you prefer)
½ cup chopped walnuts (you can leave this out if you have nut allergies)
Instructions
In a medium bowl, whisk the vinegar, mustard and pepper. Slowly whisk in the olive oil to make an emulsion. This mixture should be fully incorporated. Toss the pear slices in the dressing mixture.
Cut the bottoms off the endive and gently pull off individual leaves. Please the leaves on a plate and put one pear slice in each. Top each of the endive and pear leaves with a few walnuts and some cheese. You can drizzle this with a bit of the excess dressing, but it's not necessary if you want to save some calories.