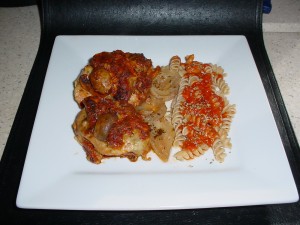 Crockpot Chicken Cacciatore
Ingredients
1 large onion thinly sliced (you may need two depending on the size of your crockpot. You want the sliced onions to cover the bottom completely.
3-4 pounds of chicken parts cut up (I use bone-in chicken and cook the chicken with the skin on and remove the skin after it's cooked. I think cooking with the skin on helps keep the chicken moist, especially white meat.)
16 ounces of tomato sauce or pasta sauce (I use Silver Palate Marinara. It's all "real" ingredients)
12 ounces of fresh mushrooms, sliced
½ teaspoon black pepper
5 cloves garlic, minced
4 teaspoons dried oregano
2 teaspoons dried basil
Instructions
Place the thinly sliced onions so they cover the bottom of the crockpot.
Add the chicken on top of the onions.
In a separate bowl, combine the sauce, seasonings and fresh mushrooms so the mushrooms are coated.
Pour the mixture over the chicken.
Cook on high 3 to 4 hours or on low 7 to 9 hours or until the chicken is done.